Did you know 1 out of 4 seniors fall each year?
According to the Centers for Disease Control and Prevention, less than half of those who fall tell their doctor, but 1 out of 5 falls leads to a serious head or bone injury. Because falls can happen anywhere and they pose a threat to your overall health and well-being, it's important to lower your risk by maintaining a safe living environment.
Here are 10 tips for preventing falls at home:
1. Update your home lighting
Without adequate lighting in your rooms, you could increase your risk of tripping over something in …read more
Being alone at dinnertime can make eating seem unexciting.
Melanie Persall, a dietitian at Harvard-affiliated Massachusetts General Hospital, told Harvard Health Publications it's a common scenario for seniors who live at home alone.
"When eating is no longer a social experience, people don't make an effort," she said. "There's no joy left in preparing food, because people don't view it as something valuable to do for themselves."
Because of this, many older adults might consider skipping meals completely or relying on fast food options because they're simple and convenient. But malnutrition and little variety in one's diet can cause extreme weight …read more
According to the Administration on Aging, about 12.5 million seniors lived alone in 2014.
If you're one of these people, it's important to take extra safety precautions to ensure your living environment is secure.
Not only are older adults more susceptible to falling, but they're also at higher risk of falling victim to thieves and criminals, according to Health in Aging. Safety and security is key for living a healthy and happy independent life. Consider these tips for protecting yourself while living alone:
1. Keep emergency numbers nearby
Accidents are unpredictable, so it's very important to prepare for the worst. Keeping a …read more
Peanut butter makes a tasty treat.
But it isn't only a delicious snack. It's also rich in antioxidants, protein and other nutrients, making it a healthy addition to a well-balanced diet. What better way to reap the benefits than by whipping up a new healthy dessert? Consider one – or all – of these tasty treats:
1. Pumpkin Peanut Butter French Toast
This recipe from Shape magazine makes the perfect Fall breakfast.
Ingredients:
1/3 cup canned pumpkin
2 Tbsp. powdered peanut butter, or regular peanut butter
1/2 ripe peach – thinly sliced
1 whole wheat sandwich thin, or 2 slices of whole wheat bread
A good night's sleep is critical for your overall well-being.
But according to the National Institute of Neurological Disorders and Stroke, nearly 40 million Americans develop chronic sleep disorders every year. Twenty million others deal with sleeping issues on occasion.
Disorders such as insomnia, sleep apnea, restless legs syndrome and narcolepsy are interfering with the people's lives on a daily basis. Tasks like driving and working become more difficult, eating and interacting socially seems less desirable, and overall health turns into a concern when you're sleep deprived.
Older adults should be getting seven …read more
Did you know that November is National Home Care Month?
This month, we give thanks to the home health aides who strive to make a difference in both the patients' and their family members' lives. Every day, caregivers, therapists, social workers and nurses all over the country choose to put others before themselves to make an impact on the growing elderly population. Val J. Halamanadaris, president of the National Association for Home Care & Hospice, believes health aides deserve an enormous amount of recognition, especially during November.
"It is highly appropriate in November that we celebrate the nurses, therapists, aides, …read more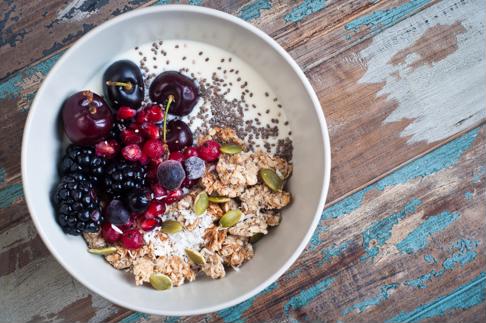 Thanksgiving is right around the corner.
Which means it's almost time to sit around the table with family and friends and share some delicious meals. Most people prepare to indulge a bit, but did you know that the average American consumes over 4,500 calories and 229 grams of fat on Thanksgiving between snacks, drinks and dinner?
The holiday splurging can really add up and break your normal healthy eating habits, but it doesn't have to. Just keep these tips in mind before you load up your plate:
1. Prepare healthier choices for the family
Sure, your family is probably expecting turkey on …read more
There are many delicious flavors encouraged by the season of fall. Pumpkin, for instance, is one of the most popular that people can't wait to get their hands on.
But this seasonal splendor isn't only tasty – it's also chock-full of vitamins and nutrients, which makes it valuable for your overall health and well-being. Read on to learn seven surprising health benefits of pumpkin:
1. It promotes strong vision
According to Medical News Today, pumpkin is rich in vitamins C and E and beta-carotene, all of which are known for preventing degenerative damage, strengthening vision and supporting overall eye health.
2. It aids …read more
Facebook is the gateway to connecting to the digital world.
Facebook is an easy-to-navigate social media outlet that makes communicating with your loved ones a simple task. It also allows you to reach out to old acquaintances and form relationships with new, like-minded people. But before you can start connecting with your peers, you have to load basic information to your profile page.
The idea of sharing your personal details for the world to see might be intimidating, but Facebook security settings can help you keep information private from certain accounts, or simply anyone who isn't a friend.
Unfortunately, the down …read more
Throwing this year's Thanksgiving feast? Wow your guests with these delicious recipes.
1. Garlic and Herb Roasted Turkey
This recipe by Delish infuses the classic turkey dinner with unforgettable flavor.
Ingredients:
1 12-14 lb. turkey – thawed
2 heads garlic – halved horizontally
1 lemon – halved
4 small onions – quartered
14 sprigs fresh thyme
2 Tbsp. olive oil
Kosher salt to taste
2 large carrots – sliced into 2-inch-thick pieces
2 celery stalks – sliced into 2-inch-thick pieces
3/4 cup low-sodium chicken broth
Optional: herbs of choice for garnish
Directions:
First, heat your oven to 375 degrees.
Take your turkey to the sink and remove and dispose of the giblets. Reserve the neck. …read more